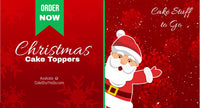 HAPPY HOLIDAYS
Its that time to start planning your Holiday parties. Cake Stuff to Go has
some really cute Holiday themed cake toppers and cupcake topper along with a
few other cute festive items that are perfect for your Christmas celebrations.
Cake Stuff to Go
We provide the edible cake toppers that complete your celebration.